34 of the best London wedding venues
34 of the best London wedding venues
Thinking of getting married in London? Known worldwide for its beautiful architecture and historic buildings, there's no shortage of unique places to tie the knot in the capital. We've come up with some of the best central London wedding venues to inspire you…
One of the more unusual wedding venues in North London, Clifton Nurseries, is the perfect outdoor space to tie the knot. Set in the heart of Little Venice, this oasis of tranquillity is like a secret garden, lush and verdant with foliage and flowers. The beautiful glasshouses can be transformed into luxurious spaces, with a flower lined aisle leading you into the heart of the Nursery. The Nursery takes on an enchanted ambience as evening falls, with candlelit pathways and stylish lanterns scattered amidst the foliage – dreamy!
Located in the iconic Somerset House on the Strand, Spring is a beautifully light and airy restaurant, and an idyllic space to hold a wedding reception. With its natural light, high ceilings, Grade I listed features and exquisite food and drinks menu, it's the ideal location for a luxury wedding. Their Events Team will help you curate every detail to create your dream wedding, and one your guests will surely remember. The Garden can cater for intimate weddings of 36 guests, while the Main Dining Room holds 116 guests.  There's also a glamorous separate area for drinks and dancing.
This luxury London wedding venue is perfect for an extravagant affair. Located near Royal Parks, this historic 5-star hotel makes a stunning background for your big day! In addition, you'll have your own dedicated Wedding Planner, who specialises in art de recevoir, to assist you in organising your perfect day. So, this venue creates a completely unique design-set up ensuring your wedding is both lavish and entirely personal to you! 
Set in Marylebone, steps from the iconic landmarks of the capital and perfect for both intimate ceremonies and grand receptions, Hyatt Regency London – The Churchill is an ideal venue for any couple looking for a classic and elegant day. With stunning architectural features and charming rooms, tying the knot at The Churchill is a unique and sophisticated experience suitable for 50 – 180 people. With impressive food, service, and surroundings, your guests are sure to be talking about your big day for months to come.
Build memories to cherish by tying the knot surrounded by Victorian splendour at the historic Hilton London Paddington. This majestic setting includes the imposing lobby staircase and the unique pillar-less ballroom with high ceilings, crystal chandeliers and large Victorian windows. So, this London wedding venue is the perfect setting for making your special day unforgettable.  
Chandos House is a stunning Grade I listed Georgian townhouse in Marylebone. This venue is available for exclusive hire, allowing couples to host their entire celebration in the historic building. For example, there are five exquisite rooms and 17 bedrooms to choose from, in addition to a garden terrace which provides a private and tranquil haven. Therefore, Chandos House is one of the more idyllic London wedding venues, despite being located just north of Oxford Street! 
Situated in the picturesque setting of Westminster, overlooking St James's Park and iconic London landmarks, stepping into this stunning venue is like taking a trip back in time. With gorgeous sweeping staircases, a grand entrance hall, majestic corniced ceilings and wealth of original period features, each room has its own distinct charm and character, creating a luxury venue with Georgian grandeur. It has been described as one of the most fashionable addresses in London and one of 'the greatest terrace houses ever built in Britain'! In short, this venue provides a picture-perfect backdrop to say your vows.
Situated in the West End, RSA House is a stunning, unique wedding venue. The Grade I listed building embraces both Georgian splendour and modern style to provide a variety of luxurious spaces. For example, the impressive Great Room, with its domed glass ceiling, provides a beautiful setting full of grandeur and character. On the other hand, the Vaults offer an intimate, candle-lit setting against its exposed brickwork. So, whether your dream wedding is a grand celebration or a more intimate affair, the RSA House's elegant rooms provide the perfect setting.  
If you're looking for breathtaking views, Altitude is your perfect London wedding venue! Comprised of two incredible high rise spaces, this venue's unique selling point are stunning 360 views of the iconic London skyline with distinct celebration spaces. For instance, the Skyloft features reclaimed wooden flooring  and exposed brickwork, creating an edgy, urban feel. On the other hand, Altitude 360 is more of a stylish blank canvas but both are absolute perfect backdrops for a dreamy London wedding! 
Located near Trafalgar Square, this luxury 4 star hotel exudes historic opulence! With beautiful high ceilings, intimate splendour and historic grandeur in every room, Amba Hotel Charing Cross provides the perfect backdrop to your day. For instance, the magnificent lobby with its sweeping marble staircase provides the ideal place for posed wedding photographs! The Ballroom has an elegantly sculpted ceiling and glittering chandeliers to create the perfect romantic wedding setting. Similarly, there are several reception rooms featuring period elegance but these provide a more intimate space. So, whether you want your wedding to be intimate or grand, this is a breathtakingly lavish London wedding venue! 
Overlooking one of London's most iconic and picturesque garden squares in St James, Mayfair, this venue is a private club steeped in history. There are three main rooms which can cater for intimate celebrations from 20 people up to larger weddings for 200 people. These spaces include the historic Club Library with its intimate and elegant atmosphere, the Pall Mall Room, with stylish furnishings and luxury decor and the Drawing Room, with sparkling crystal chandeliers and fine art portraits. These gorgeous spaces, in addition to exclusive use of St James's Square gardens, would certainly make your wedding day memorable! 
Located just off Leicester Square, this dazzling venue is perhaps one of the most unique on this list! One of the leading theatre clubs in London, famous for its cabaret performances, this venue is sure to bring drama to your big day! With many original features including the grand sweeping staircases, glittering chandeliers & stunning ballroom floor, this opulent London wedding venue is perfect for an extravagant wedding.
Located in the heart of Belgravia, this venue brings a little bit of Scotland to England's capital, perfect for a quintessentially British wedding. Originally built as a private residence, this 19th century property features understated grand interior design and a stunning staircase. Therefore, this London wedding venue provides a very personal and intimate setting for your wedding with plenty of opportunities for truly gorgeous wedding photographs! 
Situated in the bustling Fitzrovia gallery quarter, this striking wedding venue provides a perfect alternative to traditional spaces. Here, you can tie the knot whilst surrounded by beautiful contemporary art. Pi Artworks' simple yet stunning upper floor features a high ceiling and 150 square meter open space. The exclusive basement lounge is ideal for preparation and relaxing while you await your cue.
This exclusive members' club in Soho is modern and elegant, the ideal place to hold your wedding. But don't worry you don't have to be a member! With exposed brick walls, natural light and a glamorous roof terrace, it is the  picture perfect wedding of your dreams.
If you're planning on a classic British wedding, Duke's Hotel could be your perfect London wedding venue. Nestled in the heart of Mayfair, this majestic historical building is only a 5 minute walk from Buckingham Palace. It effortlessly blends quintessential British charm with cosmopolitan luxury. In addition, dedicated wedding coordinators handle everything for you to create a truly memorable wedding day. So, Duke's Hotel has a timeless, hospitable atmosphere that will make you feel as if you never left home.
Tucked away in the heart of Westminster, the Fitzrovia Chapel is a stunning hidden gem, beautifully preserved and restored. This Grade II listed 19th century chapel was never consecrated and so makes a spectacular backdrop for an unforgettable civil ceremony. So, if you are looking for a lavish and truly unique chapel in which to hold an intimate ceremony, then this place might just be the one for you.
18. Fortnum & Mason
Established in 1707, Fortnum and Mason is best known as a upmarket department store (and London landmark) in Piccadilly. However, they do host weddings! There are four restaurants available for exclusive hire, and a team of event planners and in-house chefs to create your dream wedding day! Elegant and beautifully-decorated spaces within the store are transformed into a gorgeous London wedding venue – perfect for an intimate wedding. 
If you're looking for a unique and individually designed wedding day, the Institute of Contemporary Arts could be your perfect option. Located within the prestigious Grade I listed Nash House on The Mall, the ICA is a vibrant and beautiful wedding venue. The Nash and Brandon Rooms are filled with original Regency plasterwork and feature floor to ceiling windows that open out onto three balconies overlooking St James's Park. Able to host civil ceremonies and weddings from 90 to 150 guests, this London wedding venue is stunning and versatile.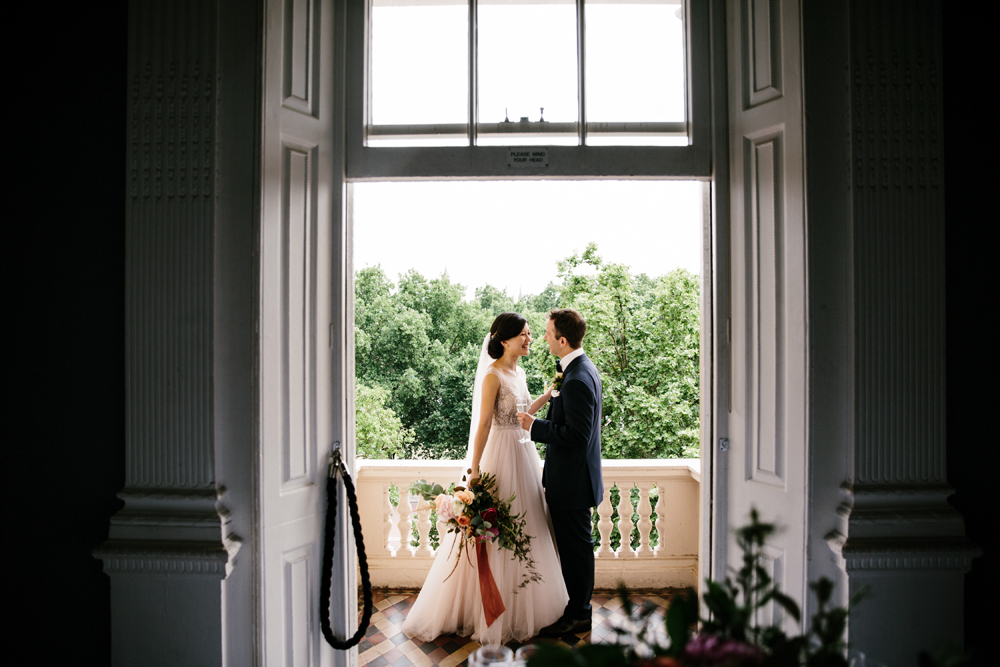 This luxury, five-star wedding venue in the West End has contemporary event space which offers a blank canvas style. For example, the prestigious Radio Rooftop has panoramic city views or the Studio spaces can be delicately styled. All spaces are ideal for intimate or large scale ceremonies, from 10 to 250 guests. So, if you are looking for somewhere to entirely yours, this could be the London wedding venue for you! 
This grand and decadent wedding venue will charm your guests. The Grade I listed deconsecrated church boasts two stunning spaces and a beautiful courtyard, ideal for wedding photographs.
One Marylebone is the epitome of romance and timeless elegance; combining modern opulence with grandeur and decadence. Beautifully restored to the original Sir John Soane design, the Grade I listed deconsecrated church boasts three impressive versatile spaces, and landscaped courtyard, just moments from Regents Park. The shimmering crystal chandeliers and glistening gilt mirrors only enhance this magnificent venue. So, magical and memorable, intimate yet elaborate – the perfect London wedding venue!
This quiet, romantic London wedding venue is perfect for book lovers and those planning a more intimate wedding day. There is a choice of 2 ceremony rooms: the intimate Marylebone Room or the elegant Mayfair Room. Firstly, the Marylebone Room has seating for up to 22 guests. The room has been lovingly refurbished and decorated with antique books, vintage ornaments and silk flowers. With its large, original fireplace and stained glass bay window, this room is perfect for a small ceremony. Secondly, the larger Mayfair Room, with its splendid aisle and elegant décor has seating for up to 38 guests. The room has a stained glass bay window overlooking the beautiful Mount Street Gardens.
23. Quaglino's
With two spectacular private dining rooms and an impressive stage, Quaglino's is an upmarket restaurant with a wow factor in the heart of the West End. With the capability to seat up to 260 guests or 220 for a dinner dance, the opportunities are endless. Moreover, the main restaurant can be hired for a standing reception for up to 600 guests making it one of the most flexible, yet incredibly glamorous London wedding venues.
St. James' Court is an icon of ornate and luxury Victorian beauty just a few steps from Buckingham Palace. Hospitality and genuine elegance awaits you on your wedding day in this magnificent venue in the centre of the city. This venue is filled with the most spectacular embellishments such as crystal chandeliers, original 19th century fountain and hand carved wooden panelling. Also, the breathtaking banquet suits at St James' Court coupled with their impressive catering options ensure that every wedding is one to remember. 
Located in the heart of Westminster, this Grade II-listed late Victorian building exudes a rich historic atmosphere. This venue boasts a tree-lined courtyard, sweeping staircase and dramatic ballroom – the perfect backdrop for your wedding portraits! So, the grandeur of this London wedding venue would make an impressive backdrop to any luxurious wedding.
Also a mere stone's throw from Buckingham palace, this Grade I listed clubhouse makes for a fashionable Mayfair wedding venue, whether you're an existing member or not! The function rooms are filled with exquisite period decor which provides the perfect photographic backdrop for any style wedding, from an intimate ceremony for 20 to an elegant banquet for 200 guests. Exchange your vows in one of theses rooms overlooking the Castle and Princess Gardens, before sipping champagne from the club's roof terrace.
Experts in society weddings, The Connaught is a 5-star luxury hotel in Mayfair which can provide the ultimate backdrop for your wedding. Couples can choose to get married in a range of beautiful function rooms or at Farm Street Church, minutes away from the hotel's entrance, before hosting a reception in one of the venue's seven spaces. For example, the Mayfair Room with sleek art deco interior can hold 200 guests. So, this lavish London wedding venue is perfect for a sophisticated celebration!

28. RAF Club
The Royal Air Force Club, overlooking beautiful Green Park, offers you the opportunity to marry and celebrate your wedding with family and friends at one of London's finest private members' clubs, without the need to be a member. Steeped in history and offering rooms with striking original features and artwork,  this London wedding venue provides a unique ambience for your special day. So, whether you plan to host a lavish celebration for over 100 guests or a more intimate affair, the RAF Club has a selection of elegant rooms, rich in character, for you to choose from.
29. The Grosvenor Hotel
This stunning Grade II Victorian hotel is renowned for its splendour and glamour. Located within walking distance of Buckingham Palace, relive a Golden age by getting married at The Grosvenor Hotel. This London wedding venue is the ultimate in British elegance, Their function rooms are all named after famous luxury trains from around the world, offering suitably grand settings for your big day.
This funky London wedding venue is certainly unique! This venue is a 1927 luxury steam yacht, permanently moored on the North Bank of the Thames, between Waterloo Bridge and Blackfriars. Spend your wedding day watching the ever-changing colours of the Thames, and party with your guests until 3am. Retaining its original character, it's central location gives guests views of some of the capital's most iconic landmarks, including Big Ben and the London Eye. The alfresco Top Deck is the perfect place to book in the summer season. Want to go all out? Exclusive hire of the yacht allows for groups of 250 people.
This fairytale wedding venue boasts a stunning Regency era setting. With exquisite menus and outstanding service, this luxury London wedding venue makes for an unforgettable day. A very English style building, bursting with vibrant and elegant touches and sophisticated rooms. In sum, you are sure to feel like a real queen for the day!
The University Women's Club is a unique London wedding venue in the heart of Mayfair. Exchange vows in the Library, raise a champagne glass in the Drawing Room, the Dining Room or the Garden! The University Women's Club provides a beautiful backdrop for your special day. So, the perfect setting for a unique and unforgettable wedding!
This unique East London wedding venue in the heart of Canary Wharf oozes elegance and is exquisite to the max.  Featuring an Italian marble floor and beech wood panelling underneath a 27m arched glass atrium, this venue is sure to impress! With your choice of entrance ranging from the glistening waters of the dockside to the glass revolving doors, expectant guests will be wowed by breathtaking views of the Main Hall. 
A luxury central London wedding venue, the Chesterfield Mayfair Hotel oozes elegance. The hotel itself is the epitome of Mayfair chic and traditional British old-world charm. For an intimate ceremony, the library can hold up to 30 guests and 20 for the reception. However, if you are having a large affair, the Royal Suite can hold up to 130 guests for your ceremony and 100 guests for your reception. This space features crystal chandeliers to add a stylish touch for your big day!